Our learnings on policies and regulations to protect the elderly living in senior residences and nursing homes, as well as their medical staff and caregivers during a pandemic.
Early on during the first wave of the Covid-19 pandemic, we identified the elderly population as a 'high-risk' group, and as a sector that requires special treatment. As we know, the elderly population typically suffers from a weaker immune system, background diseases, and functional decline of the body. As a result, infection of Covid-19 among the elderly can be more fatal than among younger individuals. This is why, in Israel, the elderly population constitutes 8.5% of Covid-19 patients, and 85.5% of the deaths.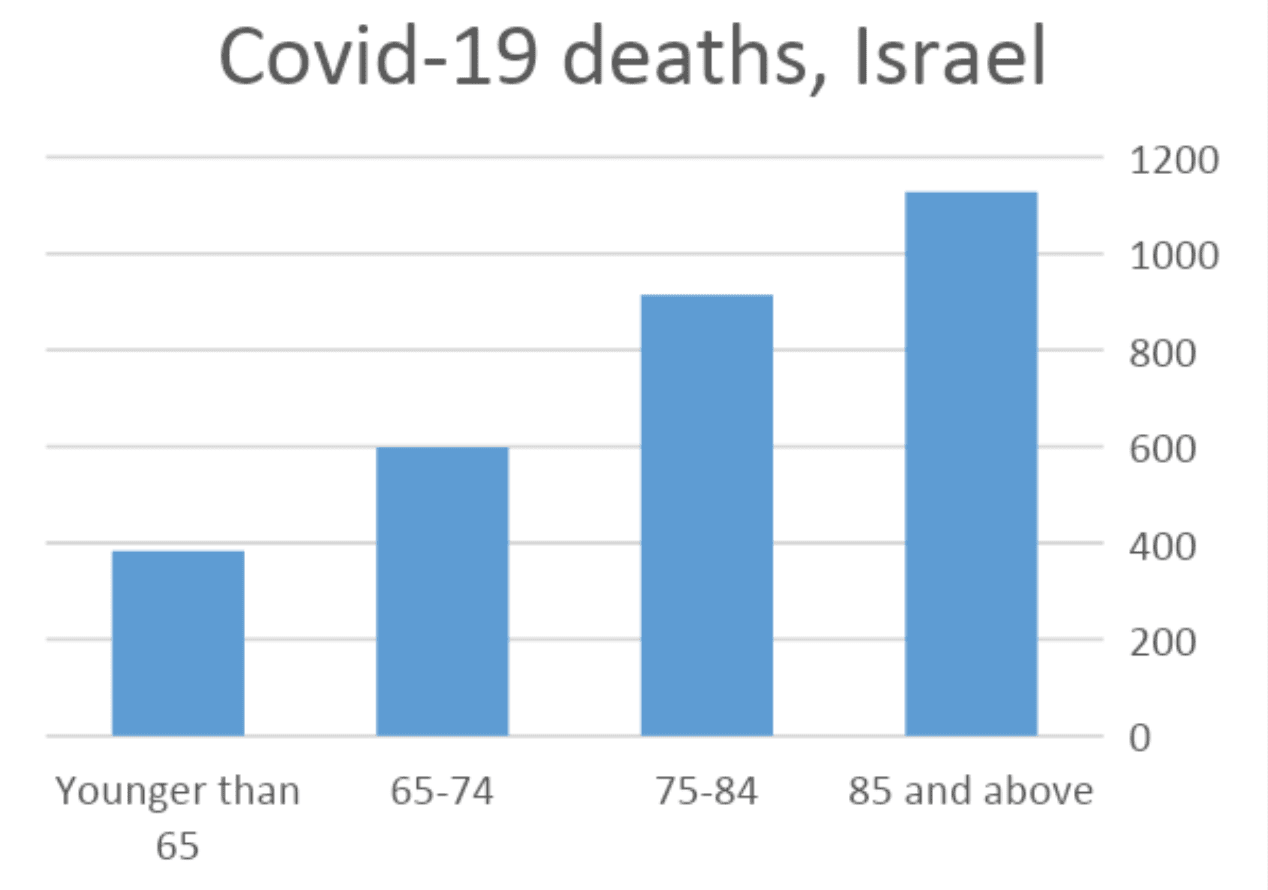 Retirement homes and long-term care facilities are therefore highly vulnerable throughout the pandemic. The danger of the virus among the residents has led to a dedicated policy to manage the activities and regulations of retirement homes and LTCFs around the world. In this policy, small and gradual steps are indicated to safely return to routine.
Various studies show that a significant number of the deaths from Covid-19 happened in senior residences and LTCFs, although only a small number of their residents were diagnosed with the virus. That said, the strict policy that includes the isolation of the residents has enormous psychological effects that go on to affect their physical condition as well.
During the first wave of Covid-19, infections of the virus occurred in 140 retirement homes across the country. At the "Mish'an" retirement home in Be'er Sheva, five staff members and six residents were infected. Eighteen residents and five staff members were infected at the "Neve Ha'Iros" retirement home in Ness Ziona. In Bnei Brak, the virus spread to five retirement homes in the city. The retirement homes were closed to visitors and the residents were isolated. The staff was also isolated, which resulted in a shortage of medical staff and caregivers.
One of the main weaknesses is the staff. There are chances of infection occurring outside the home, as well as the lack of professionals available (difficulty in recruiting and retaining the staff.) The shortage of permanent employees in senior residences and nursing homes increased because of the Ministry of Health's directive on working in only one medical institution, also the fear of infection, and the often imposed isolation of staff members.
On April 12th 2020, the Israeli government appointed a national-level team — 'Fathers and Mothers Shield' — to manage the COVID-19 outbreaks in senior residences and long-term care institutions. This initiative included the policy regarding the adjusted routine for these places. In case of Covid-19 infection in the building, patients would be isolated in separate departments, and if necessary, transferred to a hospital. The policy advocates stay in the home/facility to prevent difficulties in adapting to a new environment and routine. A home/facility will be defined as an "infected" in the case of one verified patient — caregiver or resident. A system for instruction and information has been established, and operates on an ongoing basis so the homes in the district are immediately updated on regulations and guidelines.
Following the isolations ordered during the first wave of Covid-19, the negative impact on the mental state of the residents was apparent: Increasing cases of depression and cognitive decline among the residents were reported in Israel.
Visiting the senior home and LTFC residents was permitted as of June 2020, under restrictive conditions and in the presence of a staff member.
In the United States
As of mid-June, visits to retirement homes and LTCFs were permitted if no cases of infection have been confirmed, and in accordance with restrictions set by management.
In Asia
Initiated testing: In February 2020, provider-initiated tests were performed on all residents of retirement homes and LTCFs in Wuhan Province. In South Korea, as part of a collaboration between military and medical officials with risk groups, the military has set up "Drive-in" complexes for all the caregiving staff.
Infection in retirement homes: In South Korea and Hong Kong, Covid-19 patients have entered solitary departments inside the retirement home. In China, on the other hand, a Covid-19 patient was transferred to a medical center.
Routine: In Singapore, day-centers were closed and all social activities were cancelled. Caregivers were divided in separate teams with separated shifts, with a team dedicated to each department, and temperature checks performed twice per day for all residents. In South Korea, there was a tight isolation of residents and staff, and each home was assigned a medical and epidemiological staff.
Usage of technology: In Hong Kong, robots are used to connect residents with their families through video calls.
In Europe
Tracking of all people entering the retirement homes: In Italy, a system has been set up to monitor those entering the homes, and in Spain, visitors and staff must register.
Retirement homes policy: In Italy, guidelines were issued but not enforced by local health authorities. In the UK, scenarios were written with the National Health Organization, and all the guidelines given were enforced. In Spain, an emergency plan has been written for infections occurring in retirement homes/LTCFs — isolation of homes, closure of common areas, separate staff for separate departments — however this plan will not be enforced.
Strict policy in Germany: Visits were reduced and sometimes banned. The contact between caregivers and patients has been reduced to necessary activities only. Infected caregivers were allowed to help infected residents.
Mitigation policy in Sweden: Recommendations have been made for the isolation of retirement homes, and a number of counties and municipalities have banned visitors from entering homes and hospitals. One-third of retirement homes have had Covid-19 cases.
Testing: In Spain, extensive tests were performed in retirement homes. In Germany, frequent tests for staff were performed. In France, tests for retirement homes were preferred, and if one case was positive, tests were performed on all residents and staff.
Mental health: In France, residents were not taken from retirement homes to medical centers so as not to make it difficult for them. A mental hotline for the residents' families was set up. The significant mental distress of isolating the elderly that may also affect their physical health was taken into account when setting the regulations.
Volunteering: Volunteers assisted in retirement homes in the UK, contacted the residents by telephone in Spain, and visited homes where no positive cases were found in France.
Public discussion: In Italy, the public called against the rejection of the guidelines, the lack of testing, protective equipment and medical staff, as well as the continuing of visits. In Germany, a lawyer (Christian Richter) has filed a criminal charge of "negligent manslaughter" against the company operating a retirement home in Wolfsburg for deaths at the home for failing to maintain hygiene and lack of staff tests.
References:
Database on Corona, Ministry of Health, Israel
"11 Corona patients in a retirement home in Be'er Sheva", Yanir Yagna, Walla! News, 29.03.2020
"Fifth retirement home with Corona in Bnei Brak: 13 residents infected", Itay Blumenthal, Ynet, 21.04.2020
"Corona outbreak in a retirement home in Bnei Brak", Meital Yasur Beit-Or, Israel Today, 11.05.2020
"Corona Results: Cognitive, Physical and Mental Damage to Residents of Retirement Homes in Israel", Doctors Only System, 18.08.2020.
"Ways of European countries dealing with the spread of the Corona virus in retirement homes", Corona National Information and Knowledge Center, 11.04.2020
"Asian Policy for the Elderly", Corona National Information and Knowledge Center for the Campaign, 18.04.2020."COVID-19 Updates and Resources for Retirement Home Operators", RHRA, 13.10.2020
SYN-RG-Ai are experts in the field of crisis management, with an emphasis on COVID-19.