How the SYN-RG-Ai team analyzed and identified data systems as a critical component in effectively handling a large-scale national crisis
In early 2021, after citing Israel's Ben Gurion Airport as a "significant national weakness," Israeli Prime Minister, Naftali Bennett, appointed SYN-RG-Ai Co-Founder, Maj. Gen. (res.) Ronny Numa, to the position of Ben Gurion Airport's COVID Commissioner. Led by Numa and Col. (res.) Avi Cohen, in July 2021, the SYN-RG-Ai team immediately began their assessment of the airport's international transitions system, to build a long-term national plan during global crises and threats.
The SYN-RG-Ai team immediately identified data systems as a critical component in effective crisis management. Following is an overview of how the team developed and implemented a new and optimized transit route for passenger arrivals and departures at Ben Gurion Airport.
The Challenge
To determine the necessary systems required to enhance and secure Ben Gurion Airport's international transitions, the first step was to analyze passengers' entry and exit routes from Israel. The key challenge was to integrate and synchronize the systems already in place, and to generate actionable data for airport authorities and Israel Homeland Security (Israeli police) to better monitor incoming/outgoing passenger traffic.
The systems deployed at the airport to monitor international transitions were diverse and co-managed by the Israel Ministry of Health, Ministry of the Interior and private COVID testing and sampling companies. To achieve a successful and streamlined process, the SYN-RG-Ai team implemented a plan to restructure the passenger route, synchronize the systems in use and optimize the management of heavy passenger loads.
Following their assessment of the international transitions system, to improve the incoming/outgoing passenger routes, the SYN-RG-Ai team presented these new routes as part of their operational plan:
Passengers arriving in Israel from abroad
COVID test performed in the country of origin
Complete a passenger information form prior to landing in Israel
Receive instructions after completing the form
Land in Israel
Collect luggage
Cross border control
Present passport and card receipt (green/red)
Walk to COVID testing area
Pay for COVID test (if not paid in advance)
Passenger takes COVID test onsite
COVID testing/sampling companies provide bracelets for passengers after the test
Passenger leaves the airport terminal
Quarantine until test results are received
Receive test results within 24 hours following the test
Passengers departing Israel
COVID test (prior to arrival at airport)
Complete online COVID form (prior to arrival at airport)
Enter airport terminal via Gate 32
Arrival at airport – 4 hours prior to flight
Security check – for valid COVID documents?
Check-in
Security check
Border control
Enter departure hall
Board aircraft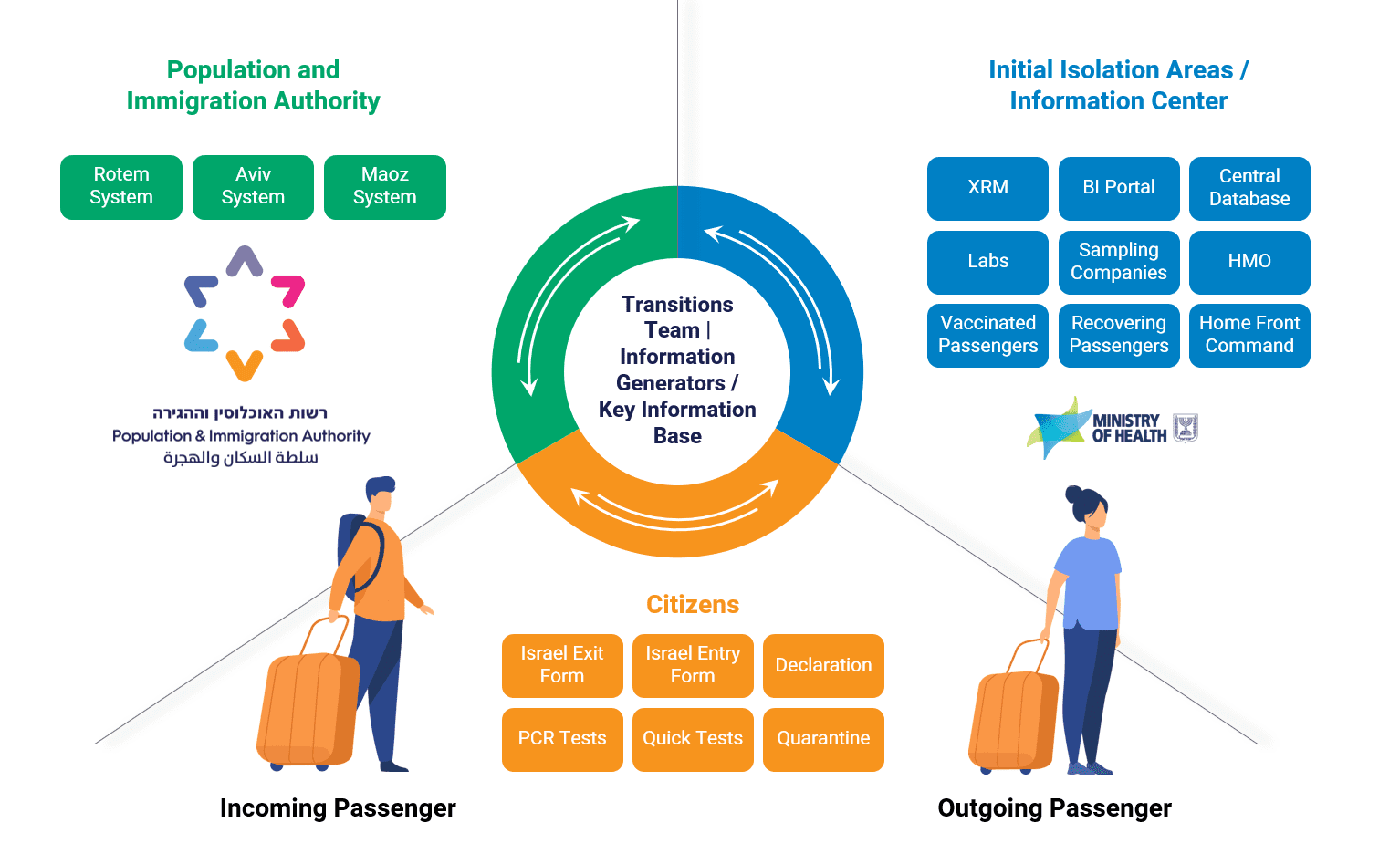 The Results
The SYN-RG-Ai team successfully developed and implemented a two-fold operational plan to optimize the data systems at Ben Gurion Airport.
System Synchronization – Working in close cooperation with several government ministries, SYN-RG-Ai was able to synchronize the airport's systems and optimize their overall performance. This was achieved by integrating the system for arriving or departing passengers' COVID declaration forms with the Population and Immigration Authority's system. Further, SYN-RG-Ai's initiatives yielded a significant improvement by integrating the Ministry of Health's system with the local COVID testing/sampling companies for passengers entering Israel.
Load Resistance – With the increase in passenger traffic at international transitions, SYN-RG-Ai deemed it mandatory that all interactive passenger systems be highly-reliable and able to support heavy passenger loads. To improve the process and achieve optimal load resistance, as part of their international transitions operational plan, SYN-RG-Ai generated the required data for various government ministries, including the Ministry of Health, the Ministry of Homeland Security and the Ministry of the Interior.
In conclusion, smart and efficient crisis management is based on enhancing data system synchronization, management and performance. To successfully optimize the international transition systems for passenger arrivals and departures at Ben Gurion Airport, the SYN-RG-Ai team proposed and implemented a new system. This was achieved by working in close collaboration with various government ministries, to enable long-term control and management during national crises.
References:


How do European countries manage to deal with the Corona crisis?, Corona National Information and Knowledge Center, 12.04.2020


What can be learned from the management of quarantine in China? Broadcasting control and calm and reducing crowds, with the help of local authorities and private companies, Corona National Information and Knowledge Center, 29.03.2020


'Moreh Nevuchim' to manage the Covid-19 situation in the local authorities, Magen Israel project, November 2020
SYN-RG-Ai are experts in the field of crisis management, with an emphasis on COVID-19.